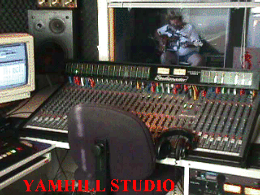 Recording With Yamhill Studio
Yamhill Studio features multi-track Analog or Digital recording.
Mastering in Analog or Digital format.

Have a old tape sound recording of a loved one?

Have an old 78 you would love to hear like new ?

Have a vinyl record you can't replace but its scratched ?

STUDIO POWER
SQUARE-D 9713 H-1 ISOLATION TRANSFORMER
LINE MASTER OMNI-PHASE OSW SURGE PROTECTION
SQUARE-D ISOLATION BREAKERS
THE CONTROL ROOM
MAIN BOARD & GEAR
(1) MACKIE SR-32-4 VLZ Desk.
(1) STUDIOMASTER mix-board with full meter bridge and MCM system
(British Made) 24X8X2, nice warm sound (analog)
(3) Alesis ADAT Recorder's ( for 24 tracks 16/20 bit digital with AD/DA converters)
Tascam DA-30 DAT Recorder (24 bit digital with AD/DA converters)
AKI 8 Track 30IPS Reel-To-Reel Recorder (analog)
Alesis ADAT BRC system (external sync with SMPTE, midi, 48 KHz clock in/out, video sync in)
D.A.W. 256 Digital Track's at 24 bit with a sample rate of 96KHz using software,
for multi-layering and sequencing all in digital (see list below)
Ferman Mixing Que Stations HR-6 (for secession monitor in the studio)
Rolls amp headphones fold-back system amp
Koss headphones for the Que. and fold back system
Alesis 100W studio reference mixing monitor amp
Alesis Monitor One's near-field mixing monitors
Crown C075 Studio Reference Amp (studio monitors)
Altec Lancing Studio Monitors (studio monitors)
CONTROL ROOM
D.A.W.
COMPUTER & MAJOR SOFTWARE
A-BIT BE6-II MOTHERBOARD WITH PENTIUM III 933 PROCESSOR @ 133MHZ
(2) 10.0 MEG WESTERN DIGITAL 5400 HARD DISK @ 100 UDMA
(2) 27.5 WESTERN DIGITAL 7200 HARD DISK @ 100 UDMA
(4) 1.0GIG SEAGATE S.C.S.I. HARD DISK
(1) 2940 S.C.S.I. CONTROLLER CARD
ALESIS A-DAT EDIT RECORDING SYSTEM CARD (FIBER OPTIC)
M.O.T.U. HARD DISK 2408 RECORDING SYSTEM (FIBER OPTIC & SPDIF)
YAMAHA CRW3200EZ CD-RW (24X10X40X40) (digital)
CAKEWALK PRO AUDIO V9.0 (digital)
SONIC FOUNDRY VEGAS PRO V8.0 (digital)
SONIC FOUNDRY Q TOOLS V8.0
AUDIO MASTERING
CD CREATOR V8.0 BURNING SOFTWARE
REAL JUKEBOX PLUS

CONTROL ROOM
OUTBOARD GEAR
(2) Alesis 3630 & 146'S compressors and gate's
(3) Beringer composers compressors and gate's
(2) Alesis meq 230 eq's
(1) Alesis SR16 drum machine
(1) ART 2 channel Pro MPA mike pre-amp
(1) Digitech Studio Vocalist Harmony Processor
(1) DOD FX10 preamps
(1) ZOOM 5130 effects processors
(1) Digitech Studio Quad V2 effects processors
(1) Sony MDF2 data filer
(1) JLC PPS-2 Synchronizer
(1) Midigman sound module
(1) Furman studio rack power conditioner
(1) Digital MX-28M MIDI Patchbay/Merger
(1) DBX Digital 224X Analog Noise Reduction Unit
STUDIO MIKES
(1) Sennheisers 421U
(1) Audio Technica 4033a
(1) Audio Technica D112
(3) Audio Technica C418
(1) Rodes NT1
(1) AKG c1000s
(1) A.K.G. TPS D3800
(4) Electro-Voice 257
(2) Electro-Voice 357
(2) Electro-Voice 757
(2) Lingq LQ-308 wireless
(8) Shure SM57
(4) Shure SM58
(2) Audio Technica Wireless 0327 w/pro8HEcW Mic's
(1) Audio Technica Wireless 0328 & Mic
STUDIO INSTRUMENTS
AMPS & GEAR
(1) Roland A-90 88 Key Keyboard & Controller (Expanded)
(1) Guitar Acoustic (Martin D-35 1969)
(4) Digitech DI's
(1) DOD Acoustic 1 Processor
(1) Guitar Electric (Fender Tele 1971)
(1) Peavey Guitar Amp
(1) RFX 402 Stereo Volume Peddle
(1) Guitar Acoustic (Epiphone PR-350 1988)
(2) DOD 265 DI's
(1) Guitar Acoustic (Kay F-Hole Arch Top 1962)
(2) DOD FX10 BI-FET Preamp's
(1) Bass Electric (Fender Jazzmaster 1996)
(1) Randell Guitar Amp
(1) Mandolin Acoustic Kay FlatIron (1978)
(1) Dunlop CGB-80 Volume Peddle
(1) Mandolin Acoustic Harmony FlatIron (1967)
(1) Marshell Guitar Amp
Various Assorted percussion instruments
(1) Slingerland Drum Set (1971)
---

What's This Free Studio Time ?
Yes........... Saddle Records Lookin' For Country Music Artists !!
Yes you did see right as we said before free* studio time to those selected artist.
Do you have a Demo, but nobody wants to listen!

You may qualify for free studio/recording time!
To start the ball rollin' give us your name and e-mail address below.
| | |
| --- | --- |
| | To receive further information regarding our offer, please enter your name and e-mail address in the section to the left. We will process your request and send you the requested information ASAP. |
Then, after you receive our e-mail with instructions on how to request FREE* studio time you can send us your Demo's and tell us:
*Certain restrictions apply. Void where prohibited. Saddle Records reserves the right of final decision. Studio/Recording Time Restricted to off normal production times and dates. Total Studio Hours to be given away is 200.